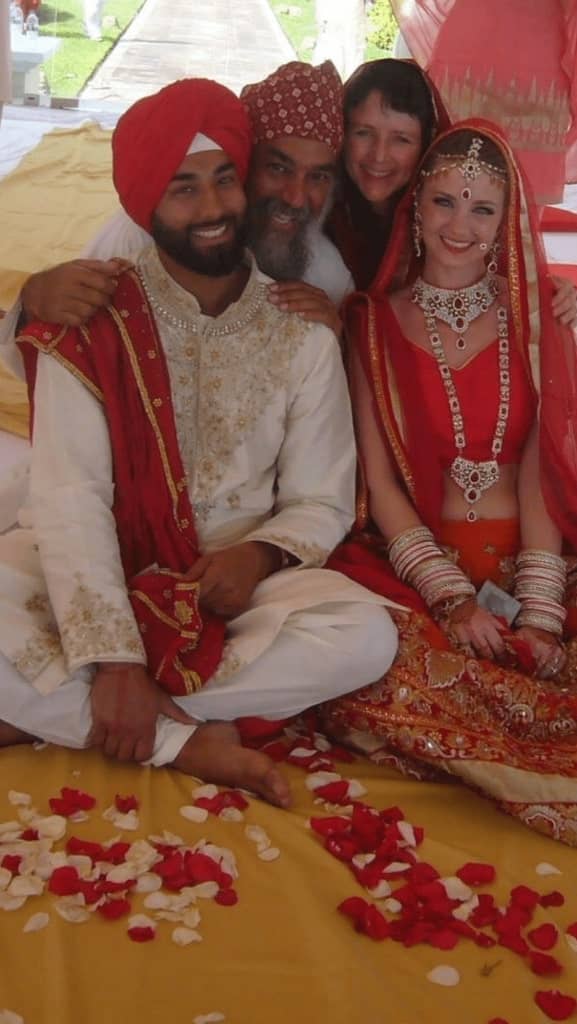 About Indian Wedding Mexico Sikh Priest
We are a caring couple who have had the fortunate to be together for over 25 years. Our specialized wedding officiant profession, vast destination experience, and close association with Indian Wedding Planner Mexico teams has given us the knowledge to interact with progressive couples from various generations and demographics giving us a unique perspective on how to create loving and memorable Sikh Indian Wedding Mexico ceremonies.
Indian Wedding Planner in Mexico
When we are not conducting Indian Wedding Mexico Sikh ceremonies or ceremonies at other Destination Wedding Mexico locations, we make it our mission to cherish the next sunrise, sunset, practice yoga pilates, prepare our own home-cooked meals, or sing from our heart.  When traveling internationally we are always searching for the most delicious coconut,  dosa, pizza, gelato ice cream, or sweet mangos.
In this journey of life we are practicing to be kind, keep moving, eat less, stay healthy, practice stillness, and be peaceful within.
OUR Story
How It ALL Began 
Over two decades ago we began on a personal journey to professionally share Sikh Devotional Kirtan music, to share the deeper wisdom and message of Guru Nanak Dev ji. In our early years, we experienced intense conflict with sewadars and political leaders at many Sikh Temples / Gurudwaras who found our presentation and bicultural look uncomfortable. We decided not to succumb, and to to take our message and presentation on a unique journey in sharing our services.
Indian Wedding Planner in Mexico
We comfortably incorporate our essence – passion for spiritual music, talent, and experiences into Destination Wedding Mexico celebrations without political interference and are connected with an excellent Indian Wedding Planner Mexico team.  See how our Sikh destination wedding Mexico services are definitely one-of-a-kind, and are starkly refreshing compared to typical ceremonies experienced at a Gurdwara. Please check out our FAQ's South Asian Destination Weddings page to address any concerns you may have regarding a Sikh Wedding in Mexico celebration and contact us for our Sikh Wedding Officiant Mexico services.
We  know, when planning for your Sikh Indian Wedding in Mexico, some of you may have also encountered opposition from local Gurdwaras or staunch believers who may have called you blasphemous and disrespectful. Fortunately, over time with extensive experience and trust, and with the assistance of an Indian Wedding Planner Mexico team, we naturally transitioned into a special niche where open-minded couples  started to utilize our services.